LUX METER FT3425
Description
The FT3425 is a light meter designed for an extensive range of applications involving illumination equipment, lighting work and facility management. Capable of testing even LED lighting, the FT3425 provides five measurement ranges, 20 lx to 200 000 lx, to support a wide range of luminance levels, and comes built in with Bluetooth® wireless technology.
Key Features
• Measured illuminance data is automatically sent to smartphone or tablet with Bluetooth® wireless technology (FT3425)
• Compatible with LED/OLED lighting • Complies with DIN 5032-7:1985 class B and JIS C 1609-1:2006 general AA class • Timer hold function lets you make measurements in remote locations while avoiding the effects of shadows and reflections • Save up to 99 measured values in the instrument's internal memory and transfer them to a computer later for improved work efficiency Data can be downloaded to tablets and smartphones using Hioki's dedicated apps available from the Google Play or App Store. Search for "HIOKI" and download the "GENNECT Cross" app.
Model No. (Order Code)
| | |
| --- | --- |
| FT3425 | Built in Bluetooth(R) wireless technology |
Note: Key Features *Android, Google Play and the Google Play logo are trademarks of Google Inc. *iOS is a registered trademark of Cisco Technology, Inc. and/or its affiliates in the United States and certain other countries. *iPhone, iPad, iPad mini, iPad Pro and iPod touch are trademarks of Apple Inc. *Apple and the Apple logo are trademarks of Apple Inc. App Store is a service mark of Apple Inc. *Microsoft, Windows, Windows Vista, and Excel are either registered trademarks or trademarks of Microsoft Corporation in the United States and/or other countries. *Company names and Product names appearing in this catalog are trademarks or registered trademarks of various companies. *The Bluetooth® word mark and logos are registered trademarks owned by Bluetooth SIG, Inc. and any use of such marks by HIOKI E.E. CORPORATION is under license. *For the latest information about countries and regions where wireless operation is currently supported, please visit the Hioki website.
How to Conduct Lighting Inspections: Cut Worktime in Half with Bluetooth Wireless Technolog
The Hioki FT3425 Lux Meter is built in with Bluetooth wireless technology, letting you pair it with the free GENNECT Cross mobile app to inspect, record, and create reports of lux data easily and efficiently, dramatically reducing work time. Gone are the issues of not having enough time to test multiple locations or creating accurate reports with a large amount of data.
How to Conduct Lighting Inspections: Using the Extension Cart to Easily Conduct Multi-point Tests
The FT3424 and FT3425 Lux Meters are supported by the Z5023 Extension Cart, which is built with casters to vastly improve the efficiency of making multi-point light inspections. When conducting final building inspections for proper illuminance, normally two inspectors are needed, and one is often required to stand and crouch repeatedly to capture the correct data. The Z5023 significantly saves both time and effort by enabling a single technician to do the job without the physical burdens.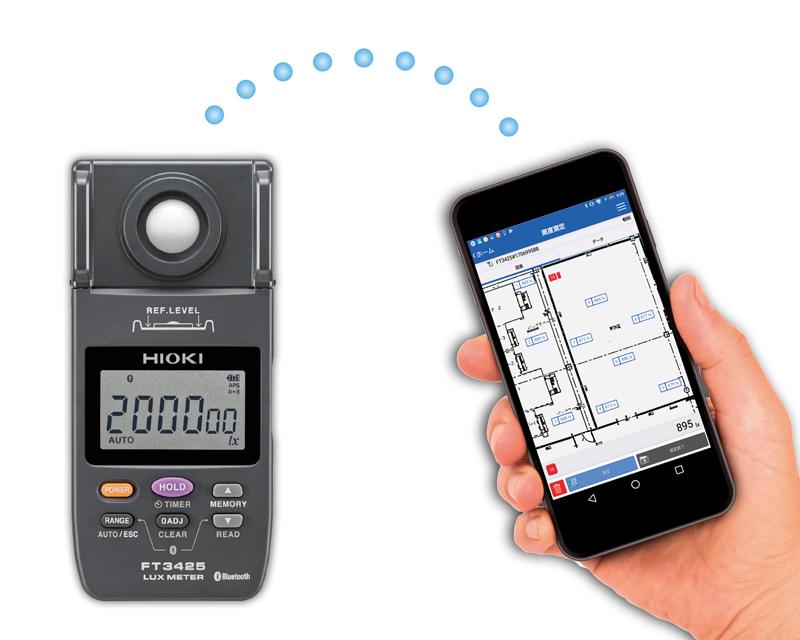 Dramatically reduce illuminance testing work times!
The FT3425 features Bluetooth® wireless technology that can be used with the GENNECT Cross smartphone app to provide robust support for every stage of the illuminance testing process, including taking measurements, recording results, and creating and submitting reports. By saving measured values on a completion drawing that's been loaded onto your smartphone or a photograph taken with the smartphone's camera, you can dramatically reduce the amount of time it takes to perform multipoint measurements, for example during completion testing following electrical and lighting work.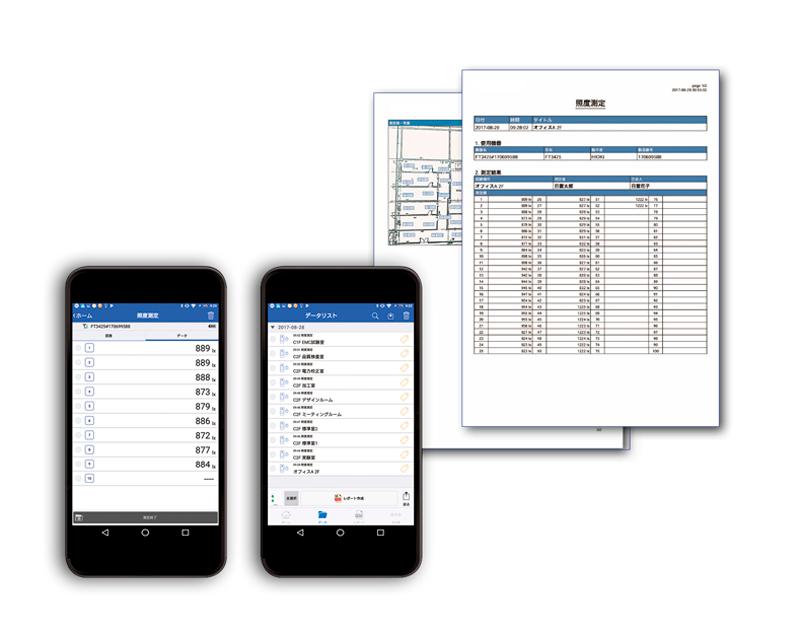 Support that extends to report creation with simple operation
Measured illuminance data is automatically sent to your smartphone or tablet, and it's easy to create reports, which can be output as a PDF file or sent by email. The GENNECT Cross smartphone app is available for both Android and iOS devices.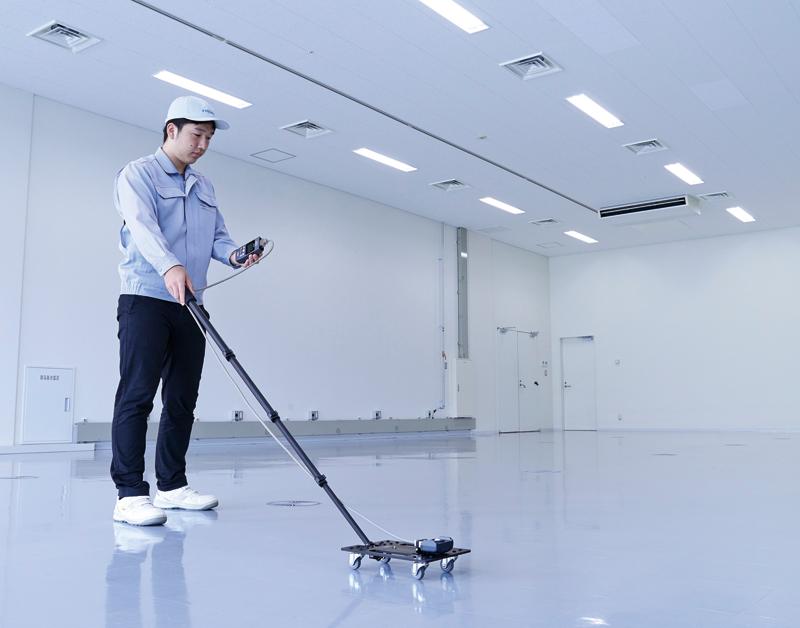 Repeated measurements are a breeze since there's no need to squat down!
The optional Extension Cart Z5023 is equipped with casters, making it easy to move between measurement locations. The ability to move the instrument without squatting down dramatically reduces the physical burden associated with making repeated multipoint measurements.
Measure illuminance free of the effects of shadows
1. Timer hold function Retain the measured value after a user-configured amount of time has elapsed from the time the TIMER key is pressed. In this way, you can time measurement to occur after you have moved away from the lux meter so that measurement is not affected by clothing, shadows, etc. Timer settings: Select from 5 / 10 / 15 / 20 / 30 / 45 / 60 sec. After the set time has elapsed, the measured value is retained. → The backlight turns on and the beep sounds for 3 sec. 2. Measurement with sensor and display units undocked You can undock the display and sensor units for more convenient use. Simply connect them with the Connection Cable L9820 (option).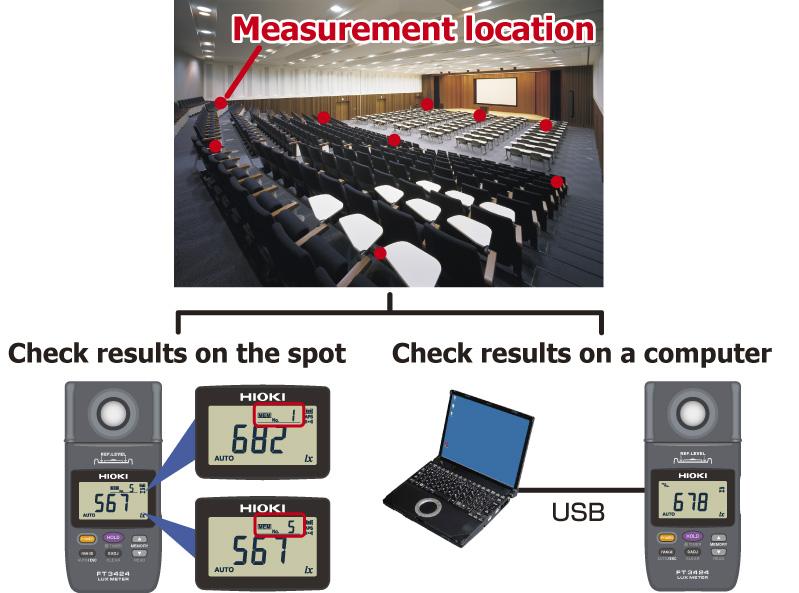 Memory function makes multipoint measurement a breeze
1.Memory function (up to 99 values) Save measured values for multiple measurement locations in the instrument's internal memory on the spot for later display at your convenience. There's no need to take time to jot down a reading on paper for each measurement. 2.Data communications functionality Transfer data saved in the instrument's internal memory to a computer via a USB connection. Data can be saved as a text file.
Basic specifications (Accuracy guaranteed for 2 years, Post-adjustment accuracy guaranteed for 2 years)Only FT3425 is equipped with Bluetooth® wireless technology, others are shared specifications
Standards
DIN 5032-7: 1985 class B, JIS C 1609-1: 2006 general AA class
Light receiving element
Silicon photo diode
Range selection
Auto/ Manual
Linearity
±2% rdg. (Multiply by 1.5 for display values in excess of 3000 lx.)
Accuracy guarantee for temperature and humidity
21 °C to 27 °C (69.8 °F to 80.6 °F), 75% rh or less (non-condensing)
Response time
Auto range: within 5 seconds, Manual range: within 2 seconds
D/A output
Output level: 2 V/range f.s. (2.5 V is output when the range f.s. is exceeded.)
Output accuracy: ±1% rdg. ±5 mV (at display count)
Functions
Timer hold function, Memory function (Up to 99 measured data can be saved.), Hold, Auto power off , Buzzer sound, Backlight, Zero adjustment
Interfaces
USB 2.0 (FT3424/FT3425), Bluetooth® 4.0LE (FT3425 only)
Power supply
LR6 Alkaline battery ×2, Max. rated power 500 mVA, or R6 Manganese battery ×2, or USB bus power (5 VDC)
Continuous battery operation time
300 hours (when using LR6 batteries, with Bluetooth® OFF), 80 hours (when using LR6 batteries, with Bluetooth® ON)
Dimensions and mass (including the batteries)
78 mm (3.07 in)W × 170 mm (6.69 in)H × 39 mm (1.54 in)D,
310 g (10.9 oz, FT3424) / 320 g (11.3 oz, FT3425)
Accessories
Instruction Manual ×1, AA/LR6 Alkaline battery ×2, Sensor cap (with strap) ×1, Carrying case (soft) ×1, Strap (for instrument) ×1, USB cable (0.9 m/2.95 ft) ×1, CD (USB driver, dedicated computer application software, and communications specifications) ×1, Precautions Concerning Use of Equipment that Emits Radio Waves ×1 (only FT3425)
Measurement ranges
| | | |
| --- | --- | --- |
| Range | Measurement range | Display steps |
| 20 lx | 0.00 lx to 20.00 lx | 1 count step |
| 200 lx | 0.0 lx to 200.0 lx | 1 count step |
| 2000 lx | 0 lx to 2000 lx | 1 count step |
| 20000 lx | 00 lx to 20000 lx | 10 count step |
| 200000 lx | 000 lx to 200000 lx | 100 count step |
Countries and regions where wireless operation is currently supported (FT3425)Last update: April 14, 2020
| | |
| --- | --- |
| Wireless certification | Japan, United States, Canada, Austria, Belgium, Bosnia and Herzegovina, Bulgaria, Croatia, Cyprus, Czech Republic, Denmark, Estonia, Finland, France, Germany, Greece, Hungary, Iceland, Ireland, Italy, Latvia, Liechtenstein, Lithuania, Luxembourg, Malta, Netherlands, Norway, Poland, Portugal, Romania, Slovakia, Slovenia, Spain, Sweden, Switzerland, Turkey, United Kingdom, Thailand, Singapore, Korea, Australia, New Zealand, Chile, and Mexico |
| Exempt from the wireless regulations | Viet Nam, Hong Kong, Macao, Myanmar, Colombia, Peru, Georgia, and Kenya |
Download File Not available
There are no drivers, firmware or software available for this product.