EARTH TESTER FT6031-50 Kit
Description
Earthing or grounding of electrical equipment is essential to maintain safety, protecting lives, as well as prevent damage to equipment. The FT6031-50 is a IP67 dustproof and waterproof two-pole or three-pole ground resistance tester with large, easy-to-read display, highly sensitive earthing rods, and innovative cable winder that significantly reduces the amount of time needed to complete earth resistance tests. CAT IV 100 V, CAT III 150 V, CAT II 300 V
Key Features
• Wireless support. Transfers measurements to your smartphone or tablet and allows you to quickly create reports with field photos and drawings. (Optional Wireless Adapter Z3210 is necessary)
• Excellent noise resistance
• IP67 protected – top of the industry
• Test all ground types from Class A to Class D with a single meter
• Wide 0Ω to 2000Ω measurement range
• Minimize cabling time with innovative earthing rods and cable winder
Model No. (Order Code)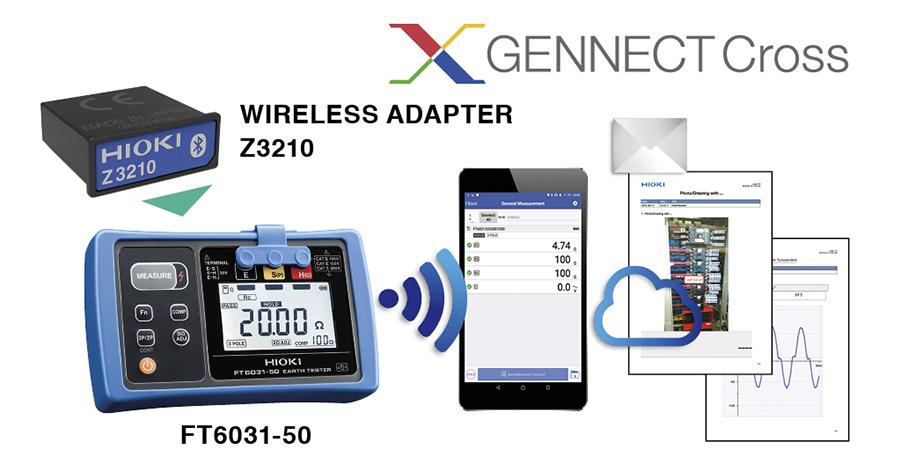 Wireless support
Wireless communication capability for even greater convenience than FT6031 (legacy model)
Compatible with Wireless Adapter Z3210 (optional). It transfers measurements to your smartphone or tablet and allows you to quickly create reports with field photos and drawings.
Easy! Just connect the optional Z3210 Wireless Adapter to your Hioki compatible instrument, to make it Bluetooth® ready.
Wirelessly connect Hioki-compliant instruments with a simple connection. Transmit measured values to your tablet or smartphone.
Instantly create reports by a free app (GENNECT Cross)
GENNECT Cross, a free app designed specifically for use with Hioki measuring instruments, lets you check and manage measurement results and create reports. The software provides a range of functionality that helps manage data in the field, including photographing measurement sites, placing measurement results on photographs, and saving hand written memos. Optional Wireless Adapter Z3210 is necessary.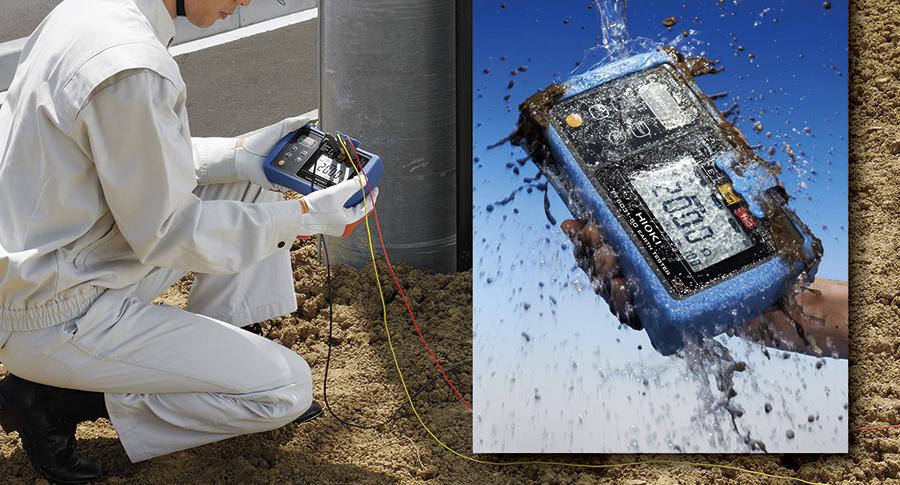 Dustproof and waterproof enclosure for robust performance in the field
IP67 dustproof and waterproof Since the FT6031-50's enclosure is designed to keep out dust, it can be used with peace of mind in settings where it would be exposed to mud and dust. And if the instrument gets dirty, it can be rinsed clean with water.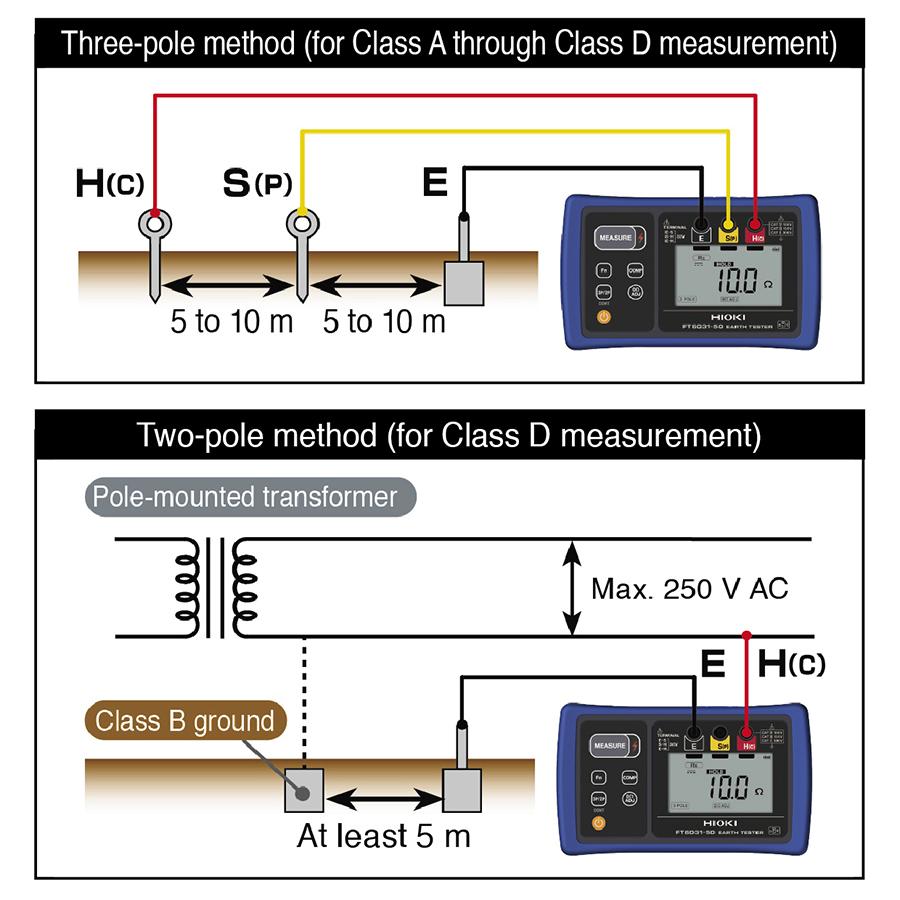 Using a grounding resistance meter: Two-pole and three-pole methods
You can select from two grounding resistance measurement methods (two-pole or three-pole). The instrument switches the internal connection automatically when the selection key is pressed, so there is no need to connect a short bar or other fixture. Three-pole method: Measure grounding resistance after inserting supplemental grounding rods into the ground. Two-pole method: Class D ground installations can be measured by using the Class B ground of a pole-mounted transformer.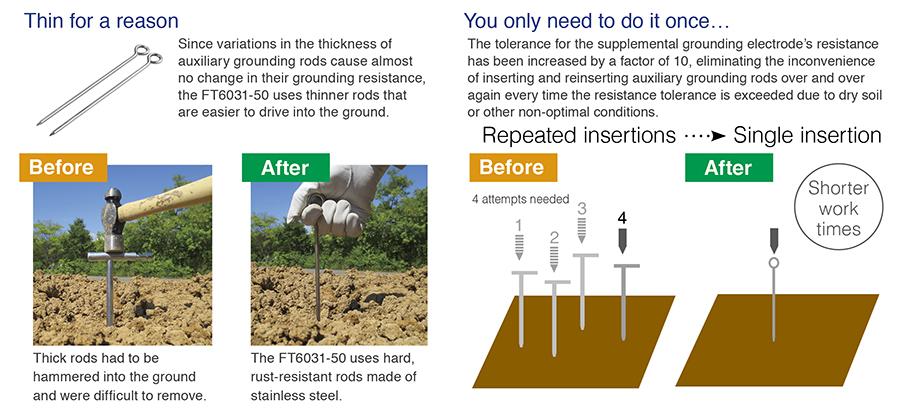 Dramatically faster measurement setup thanks to superior ease of use and digital operation
The FT6031-50's supplemental grounding rods are thin, making it easier to insert them into, and remove them, from the ground. The rods are made of rigid, corrosion-resistance stainless steel. In addition, the allowable resistance of the supplemental grounding electrodes has been increased by a factor of 10. This enhancement eliminates the inconvenience of setting and resetting the rods over and over again when the allowable resistance is exceeded, for example in dry soil conditions.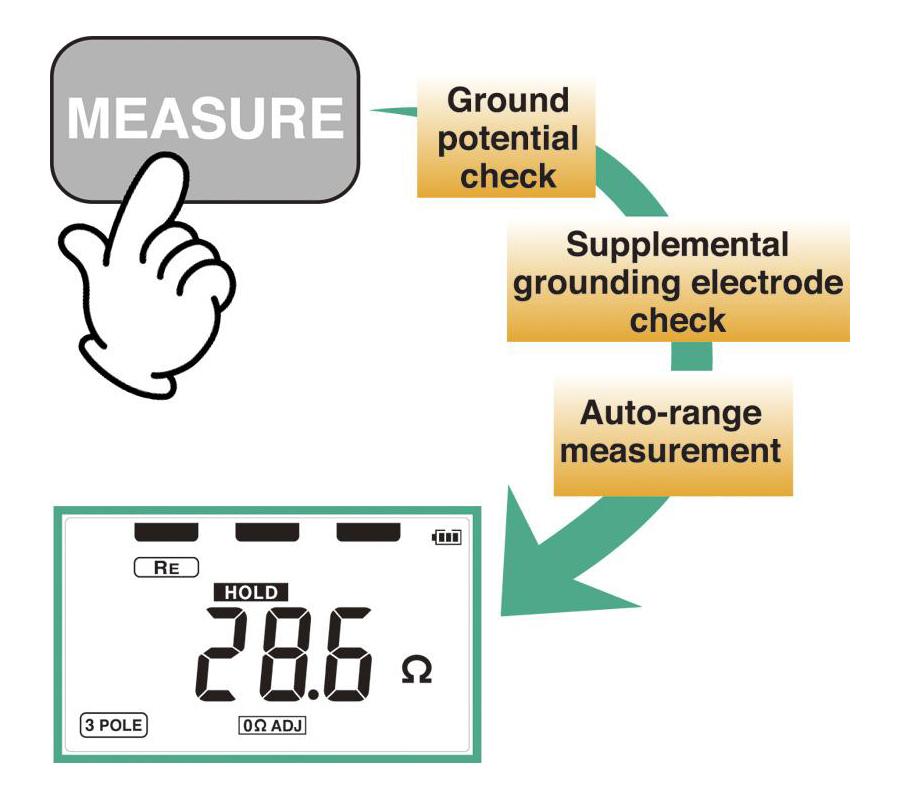 Digital grounding resistance meter featuring easy operation
The FT6031-50 is extremely easy to operate: just press the MEASURE key. The instrument will automatically complete the following sequence of operations: ground potential check → supplemental grounding electrode check → grounding resistance measurement. Auto-range operation eliminates the need to switch ranges since the instrument automatically selects the optimal range.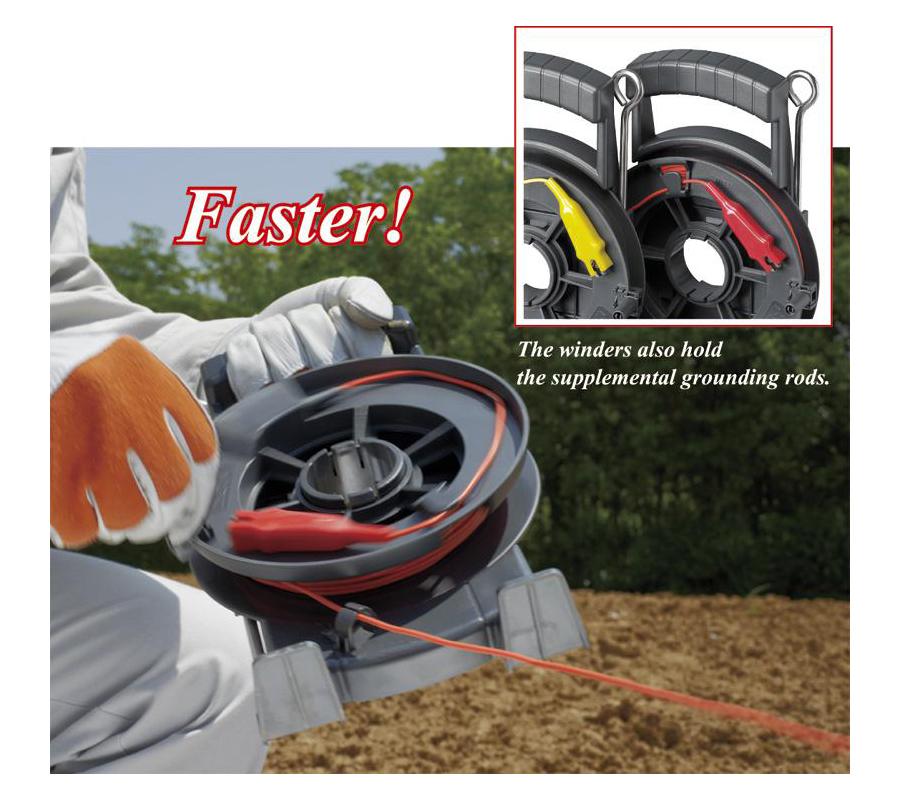 Cord winders keep measurement cords from getting twisted or tangled
When measuring grounding resistance, it takes time to put away the long measurement cords. Hioki's winders can rewind cord about twice as fast as the reels, dramatically reducing the amount of time needed to clean up after measurement.
Basic specifications (Accuracy guaranteed for 1 year, Accuracy guarantee period after adjustment made by Hioki: 1 year)
To ensure safety, use the optional Test Lead L9787 when making measurements using the two-electrode method.
Measurement system
Two-electrode method/three-electrode method (switchable)
Measurement range
20 Ω (0 Ω〜20.00 Ω)
200 Ω (0 Ω〜200.0 Ω)
2000 Ω (0 Ω〜2000 Ω)
Accuracy
±1.5% rdg ±8 dgt
±1.5% rdg ±4 dgt
±1.5% rdg ±4 dgt
Earth voltage
0〜30.0 V rms
Accuracy: ±2.3% rdg ±8 dgt (50 Hz/60 Hz), ±1.3% rdg ±4 dgt (DC)
Allowable earth potential
25.0 V rms (DC or sine wave)
Dustproof and waterproof
IP65/IP67 (EN60529)
Power supply
LR6 Alkaline battery ×4, Possible number of measurements: 500 times (measurement conditions: three-electrode method, measuring 10 Ω at 10-second intervals without Z3210 installed)
Functions
Live wire warning, zero-adjustment, continuous measurement mode, wireless communication (only when Z3210 is connected), and comparator
Dimensions and mass
185 mm (7.28 in)W × 111 mm (4.37 in)H × 44 mm (1.73 in)D, 570 g (20.1 oz.) (including batteries and protector, excluding terminal covers and other accessories)
Accessories
Auxiliary Earthing Rod L9840 (2 piece set) ×1, Measurement Cable L9841 (black 4 m) ×1, Measurement Cable L9842-11 (yellow 10 m, equipped with winder) ×1, Measurement Cable L9842-22 (red 20 m, equipped with winder) ×1, Carrying Case C0106 ×1, Protector ×1, LR6 Alkaline battery ×4, Instruction manual ×1