Description
Hioki portable battery testers support the maintenance of UPS and storage batteries critical to the life support of all businesses. The BT3554 battery internal resistance tester sets the standard for assessing the deterioration and remaining life of UPS and other lead-acid batteries by giving a complete diagnosis via battery resistance testing. The specially designed L2020 Pin Type Lead further improves testing efficiency with an L-shaped tip that lets you reach deep into the battery racks to completely probe the terminals.
Key Features
Measure and save data in as fast as 2 seconds, a 60% improvement from the legacy 3554
Instantaneously diagnose battery degradation (PASS, WARNING, FAIL) by measuring internal resistance and voltage
Noise reduction technology improves noise resistance
New protector delivers better ergonomic hold and durability in the field.
Also available: BT3554 with Bluetooth® Wireless Technology
Get Results in as Fast as 2 Seconds
Simply touch the test leads to the battery terminals to easily capture battery condition data with the Hioki BT3554 Battery Tester. Automatically save measurements results using the auto-hold or auto-memory function in just 2 seconds, a 60% reduction from the legacy product.
How to use Battery Testers: Observing Measurement Results Captured Wirelessly on a Mobile Device
Measured values captured by the Hioki BT3554 Battery Tester can be displayed and saved onto a mobile device wirelessly. The results can also be used to create automatic reports. Simply install the free GENNECT Cross app onto your mobile device and connect to the Hioki BT3554. Reports created on your mobile device can even be e-mailed to the office to further increase work efficiency. Data uploaded by the Gennect Cross app can also be loaded into a PC to view the historical state of the specified battery as a graph. Bluetooth wireless technology is available in North America, the EU, Japan and other countries. For an updated list of supported countries, please go to www.hioki.com.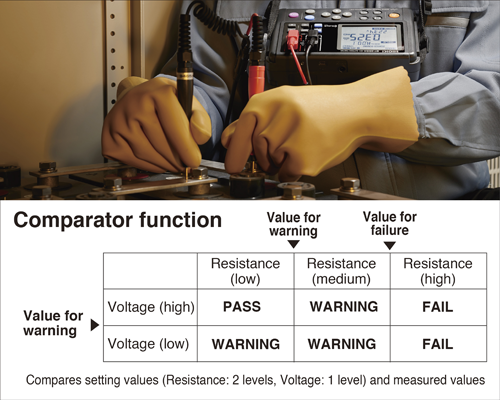 Generating comparative judgments based on a lead-acid battery's internal resistance and voltage
By using its comparator function to simultaneously measure the internal resistance and voltage of a lead-acid, nickel-cadmium, or nickel-hydride battery, the BT3554 can generate comparative judgments quantifying degradation of the cell based on user-specified threshold values.
Saving data easily just by placing the leads in contact with a battery's terminals
The BT3554's auto-hold function automatically holds measured values once they stabilize. The instrument's auto-memory function, which automatically stores measured values resulting from the auto-hold function in its internal memory, further streamlines work tasks.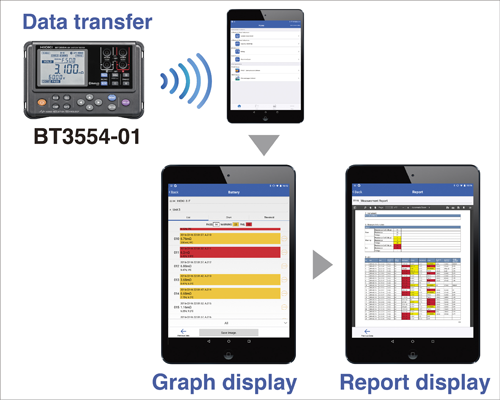 Creating reports in the field with a dedicated app
The BT3554-01 features Bluetooth® wireless technology. Measurement data loaded onto a tablet or smartphone can be viewed using templates and graphed to allow assessment of data by the cubicle (up to 500 data points). In addition, the app makes it possible to instantaneously create reports while in the field.
Basic specifications (Accuracy guaranteed for 1 year, Post-adjustment accuracy guaranteed for 1 year)
Resistance measurement range
3 mΩ (Max. display 3.100 mΩ, resolution 1 μΩ) to 3 Ω (Max. display 3.100 Ω, resolution 1 mΩ), 4 ranges
Accuracy: ±0.8 % rdg. ±6 dgt. (3 mΩ range: ±1.0 % rdg. ±8 dgt.)
Testing source frequency: 1 kHz ±30 Hz, With function for avoiding noise
frequency enabled: 1 kHz ±80 Hz, Testing current: 160 mA (3m/30 mΩ range), 16 mA (300 mΩ range), 1.6 mA (3 Ω range), Open-circuit Voltage: 5 V peak
Voltage measurement range
± 6 V (Max. display ±6.000 V, resolution: 1 mV) to ± 60 V (Max. display ±60.00 V, resolution: 10 mV), 2 ranges, Accuracy: ±0.08 % rdg. ±6 dgt.
Absolute max. input voltage
60 V DC max. (No AC input)
Display update rate
Approx. 3 times/s
Comparator functions
Setting: Resistance warning limit and resistance failure limit, and voltage warning limit; Number of comparator setting: 200 sets
Comparator output: LCD display of PASS, WARNING, or FAIL. (Select beeper to sound on PASS/WARNING or FAIL)
Data storage
Max. storable data: 6000 sets. (Saved items: Date, time, resistance value, voltage value, temperature, comparator setting values, and comparator judgement.)
Communication interface
Via USB (forward the data to the PC, bundled software for the BT3554 only)
BT3554-01 only: Built in Bluetooth® 4.0 LE (Bluetooth® SMART), supports tablets and smart phones with iOS8 or Android™4.3 or later
GENNECT Cross (Free ware): Display list of measured values, generate reports, or display the trend (on the PC only)
Other functions
Temperature measurement (-10.0 to 60.0 °C), Zero-adjustment, Hold, Auto-hold, Auto-memory, Auto-power-save, Clock
Power supply
LR6 (AA) Alkaline dry battery ×8, Continuous operating time: 8.5 hr
Dimensions and mass
192 mm (7.56 in)W × 121 mm (4.76 in)H × 55 mm (2.17 in)D,
BT3554: 790 g (27.9 oz) (including batteries), BT3554-01: 800 g (28.2 oz) (including batteries)
Accessories
Zero adjustment board ×1, Instruction manual ×1, Precautions concerning use of equipment that emits radio waves (only for the BT3554-01) ×1, Application software CD ×1, Power-on option sticker ×1, Carrying case ×1, LR6 (AA) alkaline batteries ×8, Spare fuse ×1, USB cable ×1, Pin Type Lead 9465-10 ×1, Neck strap ×1
Countries and regions where wireless operation is currently supported (BT3554-01)
Last up date: Feb. 20, 2017
| | |
| --- | --- |
| Wireless certification | Japan, United States, Canada, Austria, Belgium, Bosnia and Herzegovina, Bulgaria, Croatia, Cyprus, Czech Republic, Denmark, Estonia, Finland, France, Germany, Greece, Hungary, Iceland, Ireland, Italy, Latvia, Liechtenstein, Lithuania, Luxembourg, Malta, Netherlands, Norway, Poland, Portugal, Romania, Slovakia, Slovenia, Spain, Sweden, Switzerland, Turkey, United Kingdom, Thailand, Singapore, Taiwan, China, Korea, Australia, New Zealand, and Chile |
| Exempt from the wireless regulations | Viet Nam, Hong Kong, Macao, India, Russian Federation, Colombia, Pakistan, and Vanuatu |
Drivers, Firmware, Software